Maid services Cincinnati, Ohio
Get Quality That meets Detail with a Maid Service You can Trust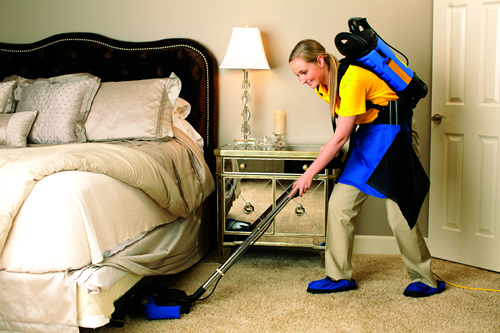 You want a maid service for your home, yet want a cleaning company that works with you--not telling you what they will do. The Maids of Cincinnati in Ohio provides you 100% satisfaction and you get a company you can trust. Enjoy having a team that works with you affordably and carries many options for any and all your needs. You get a home that is not only clean, but cleaned with immense detail, unlike other companies. Enjoy deep cleaning that is down to the tile grout, the tiny cracks, and even the hidden areas of your home. In addition, you will partner with a cleaning company that focuses on healthiness and only uses environmentally friendly products too. The unique 22-Step Healthy Touch® Deep Cleaning System combines a deep clean with healthiness and detail.
Get Superior Results from Our Unique Deep Cleaning System
When choosing The Maids, you benefit from the use of our unique 22-Step Healthy Touch® Deep Cleaning System. You will have a housekeeping team that cares about detail cleaning and your 100% satisfaction. Nothing is forgotten about and your home is detailed cleaned and healthier than ever. Ensuring high quality results is not always that easy when it comes to cleaning services, but The Maids will give you the greatest detailed clean possible, along with a focus on a healthier home.
The 22-Step Healthy Touch® Deep Cleaning System gives you benefits, such as:
Dusting window sills and ledges
Removing all cobwebs
Cleaning all wall hanging décor
Cleaning floors on hands and knees, down to the grout and crevices
All dirty dishes loaded into the dishwasher
All dirty laundry loaded into washing machine
Detailed vacuuming, down to the stairs, gaps, and edges
Emptying all trash
Fresh linens on beds
and tons more!

Hire a Maid Service in Cincinnati That Gives You Superior Results
When choosing The Maids of Cincinnati, you can relax knowing that you have a team who actually cares about you and your home's appearance and healthiness. You will experience cleaning like you've never seen before and the efforts of a 4-person cleaning service strategy to get done efficiently and with great detail. Every team member is prescreened before hiring and each one goes through rigorous training before entering your home. Our house cleaing services have 96% referral rate, which proves that we care about you and your home.
Get superior results from The Maids with initiatives like:
Highly trained, licensed, bonded, and insured team members who arrive in uniform
Use of a 4-person team strategy (1 supervisor, 1 assistant supervisor, and 2 others) to ensure efficient results with the highest detail and your 100% satisfaction
Use of our unique 22-Step Healthy Touch® Deep Cleaning System to ensure nothing is forgotten about and that all areas are covered in detail
Deep down team cleaning that covers all cracks, crevices, gaps, corners, and even the tile grout
Use of only environmental friendly products and tools, including our HEPA filtration backpack vacuum systems that stop dirt and allergens from returning into the air.
Double checked final results to ensure accuracy and your satisfaction
No matter what you need, you can trust The Maids in Cincinnati, OH to work with you and offer the flexibility of options like on call, emergency cleaning, or routine cleaning. You can even have us just clean one room. It's all up to you. If you need daily, weekly, bi-monthly or even monthly visits, our maid service has got you covered!